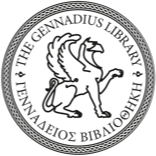 THE GENNADIUS LIBRARY
Τhe Gennadius Library of the American School of Classical Studies at Athens is a rare book library with extraordinary holdings that highlight the study of Greece from antiquity to the present. Its unique collections range from first printed editions of Homer to watercolors by Edward Lear, Byzantine manuscripts and Ottoman costume books, the historic Great Charta of Greece by Rigas Feraios and memorabilia of Lord Byron, mammoth books about the art of classical Greece in the 18th century, manuscript scores of the composer-conductor Dimitri Mitropoulos and important archival materials, which illustrate the continuous history of the Greek people and its heritage throughout the centuries.
Opened in 1926 to house diplomat Joannes Gennadius's collection of 26,000 rare books, manuscripts, and archives, the Gennadius Library today holds 138,000 volumes. One of the most well-known parts of the fine collection of Joannes Gennadius is travel literature, the so-called Geography and Travel collection. The travelogues of numerous European artists, collectors, antiquarians and diplomats, merchants, naturalists and clergymen offer invaluable information in historical, social, political, economic, religious, cultural, and geographical subjects about the Eastern Mediterranean. There is also a wealth of information about crafts, everyday life, natural history, health, and a variety of other topics of interest to many academic disciplines.