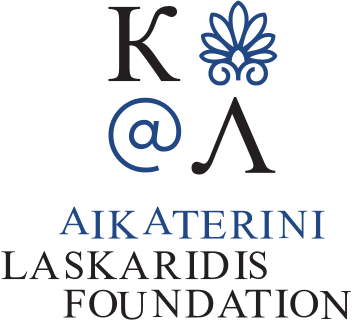 AIKATERINI LASKARIDIS FOUNDATION
The Aikaterini Laskaridis Foundation is a non-profit cultural and educational organization with the aim to promote Greek culture, both at home and abroad. Its diverse activities include educational programmes and seminars, mental health programmes, digital media, lectures, events and cooperations with Greek and foreign Universities. Its collections include two libraries, Admiral Lord Nelson's memorabilia, paintings as well as maritime history objects. The Foundation's Historical Library brings together individual named book and archives collections previously owned by important scholars and artists. Among them are the second largest incunabula collection in Greece, first editions of ancient Greek and Byzantine texts, presentation copies and many other rare editions.
Today the Foundation's Historical Library comprises over 450,000 volumes. One of the largest collections is that of its founder, Panagiotis C. Laskaridis, which counts over 5,000 titles related to the history of the Eastern Mediterranean from early Byzantine to late Ottoman times. The richest part is that of travelers' accounts. From rare editions of the 15th and 16th centuries, such as that of Bernard von Breydenbach and Stephan Gerlach, to original prints and reprints of the 19th and 20th centuries, the Travelers Collection of the Aikaterini Laskaridis Foundation covers various subjects (antiquities, political and social life, costumes, customs etc.)The Travelers Collection constitutes also the backbone of the website Travelogues (www.travelogues.gr), which the Foundation launched a few years ago, and indexes 22,000 engravings from travel accounts of the 15th, 16th, 17th, 18th, 19th and early 20th century.